Trees Foundation is a nonprofit 501(c)3 based in Garberville, California that supports over thirty grassroots partner groups working on behalf of the forests, rivers, and wildlife of California's North Coast.
 Trees Foundation was founded in 1991 to empower and assist regional community-based conservation and restoration projects. In the face of the climate crisis, we recently expanded our mission to include support for groups working to promote healthy land stewardship. This includes conservation and restoration work, and also recognizes the important role humans play in reducing carbon emissions, increasing carbon sequestration, and working to make forests and communities more prepared to withstand longer drought and larger fires caused by climate change. 
What is Healthy Land Stewardship?
Healthy land stewardship of the Redwood Coast—temperate rainforests stretching from Santa Cruz, CA up to Southern Oregon—includes preservation and restoration of functioning ecosystems, as well as making watersheds more prepared to withstand environmental threats caused by climate change, including more extreme fire and drought.

While national efforts at reducing and reversing the climate crisis stall and flounder, Trees Foundation helps to empower local efforts to reduce carbon emissions, plant more carbon-absorbing trees, and preserve and support the health of our remaining carbon-absorbing forests.
Your Support is Essential
Your tax-deductible donation is vital to support and advance hard fought conservation victories. The recovery of Northern California forests, rivers, and wildlife is dependent on community participation and personal action. Trees Foundation relies on individual donors for more than 80% of our annual budget. Please join us!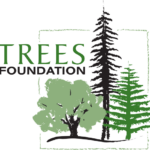 Fall of 2011 By Leib Ostrow
I've been invited to write a piece about the origins of the Trees Foundation in recognition of its twenty years of service.
Read More

→