A Day of Action to Undam the Klamath
"Undam the Klamath Now!" banner held across the Orleans Bridge in Humboldt County during the Day of Action. Photo by Klamath Justice Coalition
Fishermen and Environmental Activists Join Tribes in Asking Warren Buffett to Take Down Klamath River Dams
By Regina Chichizola, Save California Salmon
This article was originally published as the cover story for News from Native California, Volume 34, Issue 2 (Winter 2020-2021).
On October 23, tens of thousands of people joined members of the Karuk, Yurok, Klamath, and Hoopa Valley Tribes in a virtual day of action and in-person, COVID-safe rallies demanding that Warren Buffet and shareholders of his companies Pacific Power and Berkshire Hathaway keep their promise to remove Pacific Power's dams on the Klamath River.
Save California Salmon and the Klamath Justice Coalition called for the Klamath River Day of Action using the hashtag #UnDamtheKlamath as response to a statement Pacific Power made this summer that they might pull out of the agreement with several tribes from the Klamath River and the states of California and Oregon to take down the Klamath River dams.
"It's clear to us that PacifiCorp is intentionally stalling the dam removal process in order to hold on to these monuments of colonialism and tools of genocide," said Yurok tribal member Annelia Hillman from the Klamath Justice Coalition.
On August 28, Hillman and other members of the Yurok, Hoopa Valley, and Karuk tribes also blockaded Pacific Power and Berkshire executives as they took a boat up the Klamath River with tribal representatives. The goal of the action was to show the executives that while tribal members support the tribes' efforts for resolution, they were also prepared to resume actions against the companies after an almost decade-long truce.
On August 31, a group of Indigenous-led activists demonstrated at Pacific Power's office in Portland. On October 23, a large group took to the streets for the Klamath River. Between these dates Pacific Power was accused of starting many of the wildfires that devastated Oregon and California, including one that burnt Karuk tribal members' homes on the Klamath River.
"Why Portland? Because Pacific Power's headquarters are located here," explained Yurok tribal member Brook Thompson. "As someone who saw the 2002 fish kill the day after brush dance, I cannot allow unnecessary harm to come to our river over a debate on liability. At the end of the day the people and animals of the river are the ones who will be affected most greatly, not these multi-million dollar corporations."
The offices in Portland were not the only target. Just days before, Thomas Joseph, a Hoopa Valley tribal member, drove to Omaha, Nebraska, to join up with Omaha tribal members and rally at Warren Buffett's Berkshire Hathaway office and home on the day of action. "Tribal members are not going to allow corporate America to break agreements and contracts with our people in the same manner as the United States has with treaties," Joseph said. "Warren Buffet and Berkshire Hathaway have agreed to these dam removals and they must keep their word."
Joseph also held vigils with lawmakers, tribal members, and activists in Salt Lake City and at Buffett's subsidiary, Mid-American Energy, in Des Moines, Iowa. Other supporters hung banners off the Gates Foundation building in Seattle to draw attention to the fact that the Gates Foundation is one of the largest shareholders of Berkshire Hathaway, while Indigenous activists from San Diego protested a bid by Berkshire to take over the local grid.
"The City of San Diego should understand that Berkshire Hathaway is not a reliable partner," the activists said in a statement "In addition to constantly moving the ball in negotiations over Klamath dam removal, BHE's PacifiCorp was sued for starting one, or more, of Oregon and California's recent wildfires."
Tens of thousands also participated in online rallies and actions, including a virtual rally hosted by Save California Salmon that included stories, songs,
and calls to action from Klamath River tribal members who have been organizing for Klamath dam removal for almost twenty years.
Virginia Hedrick, Yurok tribal member and executive director for the California Consortium for Urban Indian Health, called in to the virtual event from a rally at California's capitol and explained why her family had been fighting for the Klamath River for generations. "The river is who we are, without it we no longer exist. We will never stop fighting for the river," Hedrick said.
The fight for Klamath River dam removal started with the Klamath River fish kill of 2002. Over the eighteen years since the fish kill, salmon numbers have plummeted and the entire river has turned green yearly due to record-setting toxic algal blooms that have been linked to the dams. These issues, along with the fact the dams would cost more to relicense than remove, led to an agreement to remove the dams in 2016.
The loss of the Klamath salmon has widespread health, economic, and cultural impacts. The Yurok Tribe has reported suicide rates that are twelve times the national average during bad salmon years, and studies have shown that the diabetes and heart disease rates in the Karuk Tribe, which are over three times the national average, are due to changes in diets from lack of salmon.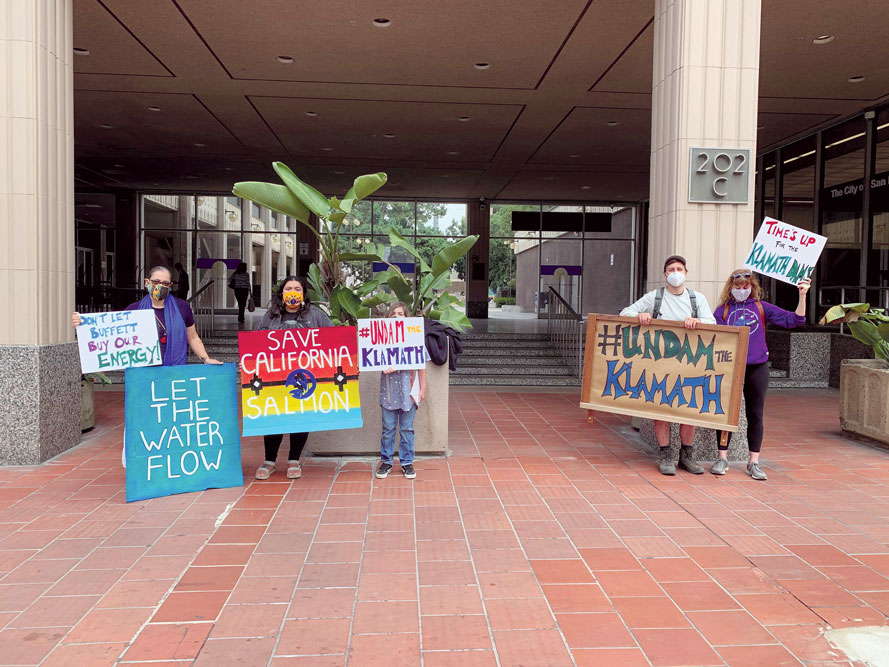 The plan to remove four lower Klamath River dams appeared to be on track to start by 2022—until July 16, 2020, when the Federal Energy Regulatory Commission (FERC) made the decision to partially transfer the Klamath dams to a dam removal entity on the condition that PacifiCorp remained a co-licensee. It was at this time that PacifiCorp threatened to pull out of the deal.
"PacifiCorp committed to taking down the Klamath River dams by 2020. They collected the money to remove the dams and received state permits for dam removal, but now claim the deal is not good enough," said Regina Chichizola from Save California Salmon. "Buffett is the fourth richest man in the world. Bill Gates, one of the top shareholders through his foundation, is the second richest man in the world. We will not allow them to act like upstanding members of their own communities while they destroy ours."
Save California Salmon's virtual action effort was part of their Mobilizing Water Justice Week of Action with Humboldt State University's Native American Studies Department, which took on issues such as environmental racism in California water decisions, the Delta Tunnels' impacts on Native people, climate and fire, safe drinking water, and saving salmon. All of these webinars, including the online rally, are available on Save California Salmon's
YouTube channel.
For more information: visit californiasalmon.org or follow @CaliSalmon on Twitter, @californiarivers on Instagram, and @SaveCaliforniaSalmon on Facebook.