Celebrating the Removal of Statues and Monuments to Genocide of Indigenous Peoples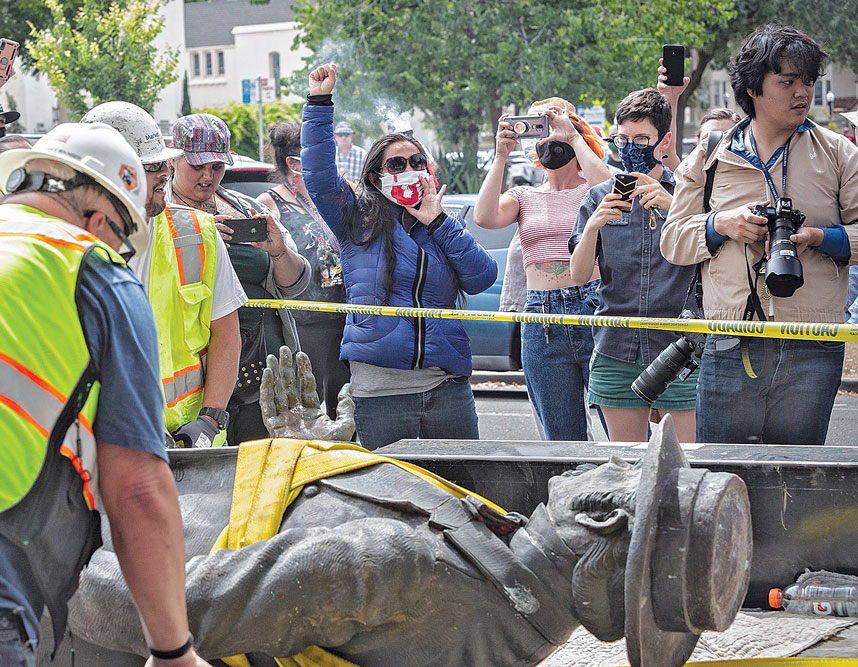 Save California Salmon Tribal Water Organizer Morning Star Gali (in center of photograph with fist raised) advocated with other Indigenous activists for the removal of this statue of John Sutter. The statue stood outside Sutter Medical Center in Sacramento, CA for many years until this day on June 15, 2020. Sutter was a 19th century European colonizer of California who enslaved hundreds of Native Americans. Photo by H.J. Tsinhnahjinnie
By Save California Salmon
Save California Salmon Tribal Water Organizer and Pit River Tribal Member, Morning Star Gali spoke at Sutter's Fort State Historic Park in Sacramento on Tuesday, June 16, 2020, for the removal of pioneer statues. Gali told reporters, "This is day one of three days of events where we're focused on the removal of these pioneer statues. Yesterday we claimed a victory with the removal of the Sutter statue outside of Sutter Hospital. That came down prior to this event we're holding today as a teach-in and a community conversation.
We really see this as an opportunity to be able to tell the truth of our histories; to be able to tell our stories, and not those stories that were written by non-native peoples, that depicted us, in a way, as unhumanlike…."
"…We're in a moment when people are paying attention to that, and people are listening to us, and people are listening when we say that it's time to tear down white supremacy, it's time to get rid of these racist statues, that we don't need monuments to genocide anymore. That's part of why I'm here, to help give my community that platform so then they'll be able to tell their own stories in their own voices."
Excerpts from Webinar: Grassroots Advocacy & Indigenous Environmental Justice
Below are excerpts of remarks given by Morning Star Gali, Tribal Water Organizer for Save California Salmon in a July 3, 2020 webinar titled "Grassroots Advocacy & Indigenous Environmental Justice". This was the fifth webinar in an ongoing free summer speakers series and was moderated by Brittani Orona, who also presented along with speakers Tia Oros Peters and Morning Star Gali. (For more on this series, see Advocacy and Water Protection in Native California.)
Morning Star Gali "I want to talk about some of the collective organizing efforts we have been doing with Save California Salmon. I first want to acknowledge I am here on Nesenan and Miwok territories.
We have been…for the last 30 days, organizing, and our activism has been happening in the streets, intervening in keeping people safe. I serve as a colleague for the Healing and Justice committee, for the Anti-Police Terror project here in Sacramento. Also I am ensuring through that work that folks are receiving the training they need as we work collectively.
I also want to acknowledge, that through these land acknowledgement and through these efforts to name places and to reclaim visibility of Indigenous people's land and territories, that we also must acknowledge…our Indigenous peoples that are not recognized on their own lands and territories…as continuous genocide and colonialism that has always targeted our women, our girls, our two-spirit trans and nonbinary relatives.
We have always had a history of activism and environmentalism that has come in many different forms and names since the time of occupation and invaders landing on our shores. Since the time here in California of missionization, we have faced incarceration and enslavement of Indigenous peoples.
We are now at a time [of] the removal of statues and monuments to genocide…We are in a moment that needs to be acknowledged and celebrated, also recognizing that we have much more work ahead of us."
"… In speaking from my own experience … it can be very conservative in how tribes feel that they approach the issue of our fishing rights and of our water rights, and not necessarily wanting to feel that there's friction being caused with the state. I worked as the Tribal Historic Preservation Officer for my tribe for over four years, and now that I'm working outside of that tribal government structure, there is a way that we are able to advocate and work with organizations and work with communities. A lot of these fights and efforts are not necessarily led directly by the tribes themselves…but on the outside from organizers and community members that are able to be more vocal about what is taking place."
"… I want to recognize Regina Chichizola and the fish camps that we have held through Save California Salmon—being able to connect and bring children, being able to have our families present and talk about this relationship with the salmon. I had mentioned briefly in my last presentation, that personally, within my own tribe … we have been fighting PG&E now for many decades. And so people are seeing that, with the fires, and what has taken place, PG&E not being accountable to what has occurred. They have done this to California's Indigenous Peoples for many years now. They never fulfilled their promise to install fish ladders on our river, on the Pit River, where six out of the seven dams were placed on the river. So we have not had salmon in our river for over 80 years."
Morning Star Gali, describing the above photo of a March 2 rally in Redding, which was the final slide of her presentation:
"So this is my daughter (that you just saw moments ago) and an elder, Jeanie [McCovey]. We gathered in Redding and we had over 200 tribal and community members there in support and DWR [Department of Water Resources] was NOT happy, because there's this "messaging" that these state entities work well with tribes, and that they're working well with tribal peoples. And so when…we challenge these false narratives and show up as a large force, then they have to go back and answer to that."
To watch the full webinar, visit
https://tinyurl.com/y84bxma9
For more information:
californiasalmon.org