Tenmile Creek Forest Health Pilot Project to Develop New Tools for Regional Planning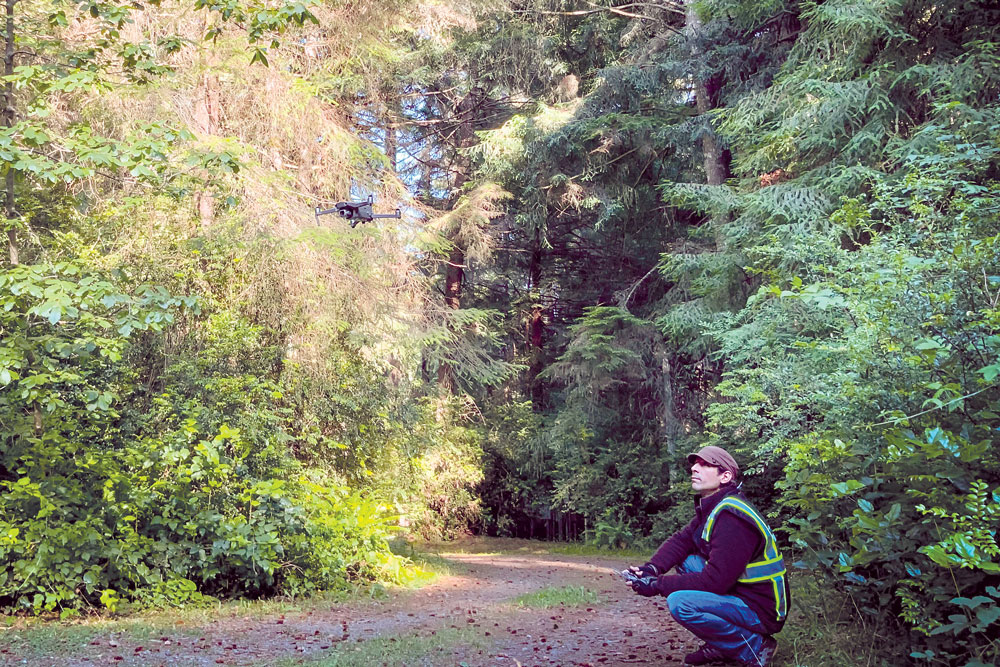 James Lamping of Humbots Data Analysis tests a remote sensing drone at Jackson Demonstration State Forest. Photo by Joe Snipes, Humbots Data Analysis.
The Tenmile Creek Watershed Forest Health Pilot Project will begin in July 2020, thanks to funding provided by the North Coast Resource Partnership's Demonstration Program. The Eel River Recovery Project identified forest health and elevated evapotranspiration of over-stocked forests in Tenmile Creek tributaries as a problem constraining stream flow (see related ERRP article) and began to explore whether there might be funds available to remedy the problem. A second major long-term objective is carbon sequestration to moderate climate change at the Eel River watershed scale.
Regional fire planner Tim Bailey, who is working for the Humboldt County Resource Conservation District on implementation of forest health from the Eel River south to Marin County (as part of a larger regional plan), recommended two sources of such funds: the Wildlife Conservation Board (WCB) Climate Change Initiative (CCI) fund and the North Coast Resource Partnership (NCRP) Demonstration Project grant.
ERRP assembled an elite team of forest health experts in late March, together with local people who could help build capacity for implementation at the Tenmile Creek watershed scale, and began preparing applications. We learned that the cost of planning for CCI-qualified projects is extremely high because they must meet California Air Resources Control Board standards for greenhouse gas emissions calculated by a model that requires the measurement of thousands of trees.
While our WCB CCI pre-application in April was not selected, ERRP did receive the NCRP Demonstration Program grant, and the project will begin this July and be completed within a year.
The first mission of the ERRP forest health team is to devise an ecologically sound forest health plan template that can serve as a model to adopt elsewhere in the North Coast watershed. Plans will embody traditional ecological knowledge of the Cahto Tribe and have as a goal returning the landscape to its condition at the time of European contact, where possible. The forest health plans will clearly recognize and define potential regulatory and permit hurdles for each plan, so additional resources can be sought to meet challenges that plans share and to help cover the expenses that exceed landowner capacity.
Humbots Data Analysis is a recent start-up business formed by Humboldt State University graduates who use drone technology and remote sensing to help analyze forest composition with a view to better characterizing forest health. The objective is to work toward forest plans that require taking fewer measurements on the ground, while providing sufficient detail to enable carbon-sequestration aspects of forest health implementation to be calculated even for small landowners. This is a key aspect of qualifying for CalFire Climate Change Initiative funds, which are funded at $550 M per year, and those funds could enable restoring the forests and grasslands of the entire Eel River watershed. Each plan will envision forest health implementation, including detailed layouts of how logging and tree removal will take place and how trees will be selected in each area of the plan. ERRP has integrated consultants from the Forest Reciprocity Group into the project, who wish to anticipate the flow of small-diameter timber off Tenmile Creek forest health projects, and the plans will include data they can use for business purposes.
Representative parcels with cooperative landowners were chosen for forest health planning demonstration sites: an overstocked forest on the property of a senior citizen in an unnamed tributary of Cahto Creek, three landowners along the Cahto Trail, the Triple Creek Ranch on the east side of the watershed, four parcels west of Laytonville belonging to members of Tenmile Creek Road Association, and three larger parcels in lower Tenmile Creek. Each of 12 landowners will receive forest health plans for their property and will then be included in subsequent grants for implementation, if they wish.
The lower Tenmile Creek parcels will get a lot of attention since they are large (165–250 acres), and in aggregate they offer extremely high conservation value. They abut the property of restorationist Steve Brown, who has been working on forest health on his 250-acre property in Peterson Creek since 1998. The convergence of Tenmile Creek and the South Fork Eel is only 2.5 miles downstream of Peterson Creek, and Steve Brown has restored its lower reaches that serve as steelhead refugia in summer. Next to Steve is the Angelo Reserve, over the ridge on the South Fork, and U.S. Bureau of Land Management lands that include old-growth Douglas-fir and that connect to the Cahto Peak Wilderness. Forest health implementation here could be a huge boost for aquatic and terrestrial biodiversity. It may also be possible to qualify owners for conservation easements, where they would be paid to not harvest trees.
ERRP is working with the newly formed Tenmile Creek Watershed Council that will be the conduit for future forest health implementation, bringing in millions of dollars in grants, creating full employment, and restoring forest health over the next decade. A major hurdle there is to develop the workforce to implement forest health, including training youth to assist with implementation in the field and as foresters and scientists. Benefits after implementation include improved community fire and water security, climate-change resilience, flows for salmon and steelhead, and sequestration of carbon to help offset climate change.
For more information:
www.eelriverrecovery.org